---
Explanation to Warning Points
---
Hey guys! I am introducing this thread to go more in-depth into warning point and what each warning point means and more. A warning point is similar to a in-game punishment and is issued when a rule is broken. Each warning point has either 1 or 2 points for each offense. The usually last from 1-3 weeks and some don't ever end. So that is a brief explanation on warning points. Now we're going to get into the thread!
| | | | |
| --- | --- | --- | --- |
| | | | |
| Spamming | Spamming is when a post is posted 2 or more times by the same user in a thread or when a user posts 2 or more threads in a forum. In other cases it can be accidental such as the webpage loading slowly and the same post ends up twice or more. In this case message an online staff member to handle it. | One Point | One Week |
| Inappropriate Language | Just as it sounds. Like how you would be muted in-game you can earn a warning point here on the forums for the same thing if such language is used excessively. | One Point | One Week |
| Inappropriate Links | Links that are inappropriate that lead to content such as pornographic material and explicit content. | One Point | Two Weeks |
| Inappropriate Forum Signature | Any content found in a forum signature of a user deemed inappropriate. If a user is found with an inappropriate forum signature, their signature will be disabled and this warning point will be given to them. The signature can be enabled and the warning point removed by submitting an appeal. | One Point | Never |
| Player Disrespect | Just as it sounds like. Publicly disrespecting an harassing other users via a thread or a reply to a thread. | One Point | Three Weeks |
| Threats Towards Others | Physically or emotionally threatening another user of the forums. | Two Points | One Week |
| Thread Bumping | Bumping an older thread to the top that hasn't been replied to in 14 or more days. This applies to giveaways too. A user is only allowed ONE BUMP of their own thread. | One Point | One Week |
| Persistent Posting | Posting an answer after another user has already answered the question/topic. Usually requires multiple similar cases by the user. | One Point | One Week |
| Post Like Boosting | Asking other users to boost your amount of likes on the forums. This includes alt accounts that you use to give yourself likes. Along with this warning point, the user who got the likes will have their vote count reset. These likes cannot be earned back. | One Point | Never |
| Useless Posts | A post that is deemed useless to a thread or the forums. Warning point can be issued on the Off-Topic forum as well to a certain extent. | One Point | One Week |
| Micro-Moderation | When a user acts in the position of a staff member. Things such as posting about asking for thread locks, notifying others of the thread being in wrong forum or notifying others of double post are examples of micro-moderating. Things like this are for staff to warn about and not users. Read more about it here. | One Point | One Week |
| Fake Forum Giveaway | Hosting a forum giveaway where the winning user doesn't receive the promised rewards. More about giveaway rules can be found here. | One Point | Two Weeks |
| Unapproved IRL Deal | Sharing or discussing an unapproved IRL deal. | One Point | 2 weeks |
| Abusive Behavior | Acting out in any form in the forum community in a toxic or offensive manner. | Two Points | Never |
| Disruption of Server | Disrupting the forums and it's members in any shape or form. | Two Points | Never |
If you end up receiving on of these warning points, you will receive a message from the staff member who warned you. The message will look something like this: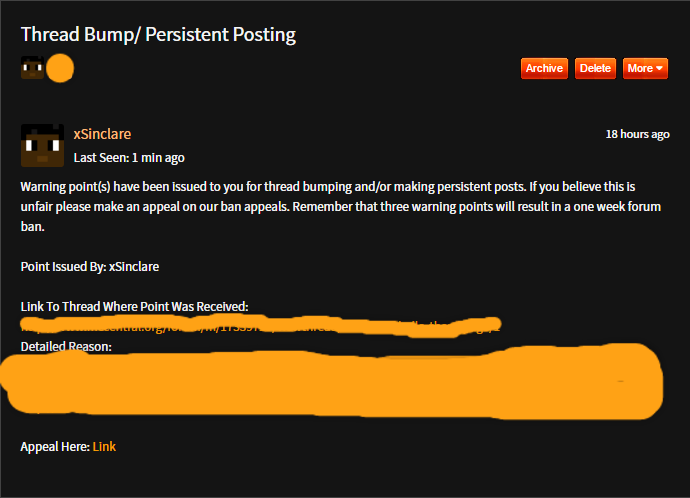 In this message it will show you what you were warned for, who the warning point was issued by, link to the thread where the point was received, a detailed reason and the appeal link. Whether or not you delete that message that warning point will stick with you until it expires or you appeal for it to be removed.

You can report a user for any of these offenses by reporting players here. There you can simply attach screenshots of the posts made and/or link to the threads/posts by the user you are reporting.

I hope this thread helps you all and gives you a better understanding of the forums rules and its warning point system. The rules are not limited to just these things mentioned above. Anything similar can also fall into the category of these rules. If you act appropriately and you are in the community in a friendly and even helpful manner, then you don't have to worry about receiving these warning points. Staying up-to-date with the forum rules helps a lot. If you have any questions or if there's anything I missed in the thread please don't hesitate to message an Admin! As always have a great day!