---
Hey, guys! This is a quick and easy guide on how to get started using the MCC | Community Discord server! Here you will be able to find information about all the text channels, voice channels, and bots. Please make sure to ask a staff member if you have any questions while reading this guide. This guide will be updated as changes are made to the Discord server. The server is in an early stage at this time, so parts of the server are subject to change within the upcoming weeks. If you need any further help on how to use Discord, in general, these please check out this thread by xGapple's to get around Discord more. This thread is about the features of the Discord server and not how to use it. First off we'll begin on how to create your Discord account! The first step to successfully join the server is to have a Discord account with a verified email address. Let's start there!

1. Account Creation
To create your account you must go to https://discordapp.com/register and from there you may choose your desired username, the email you wish to use and a password. Make sure you choose a good password too. A password with at least one number and special character (!, %, *) will ensure a secure account!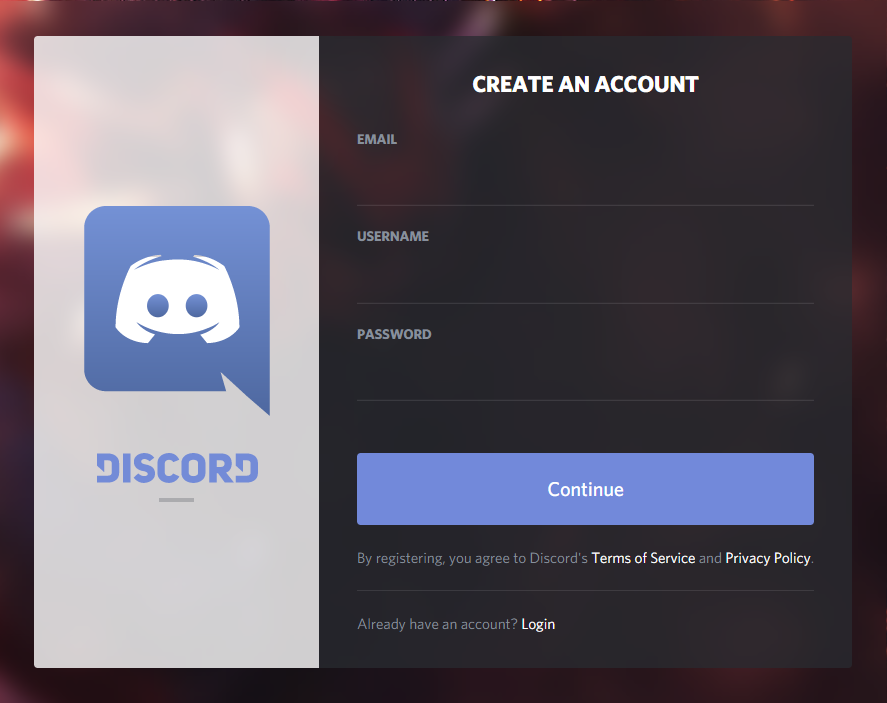 Once you create your account check your email for the link to verify your Discord account. The link will take you to the Discord website and there should be a confirmation message. You must have a verified Discord account before joining the Discord server! The next step here is joining the server and what to do from there.

2. Joining The Server
Once you join the server you must wait 10 minutes before being able to talk in any text channels or voice channels as this is what the current verification level of the Discord. The verification level is combined so you must have a verified Discord account and must be a member of the server for 10 minutes. So once you join don't leave for 10 minutes. After 10 minutes you will be assigned the "Member" role as you will be able to join the Discord server as normal. Please message an Administrator in the #waiting_room channel if you still are having issues with not being able to access text channels and voice channels.

3. Overview
So you have created your account, verified your Discord account and you have been on the server for more than 10 minutes. Now you can use the server! We will go over the text channels, voice channels, and the server bots.

3A. Text Channels
There are several different text channels for you to access and talk with others. Here they are and a description of each one:

#rules_and_information
This chat you will find all rules and information regarding the Discord server. Check this channel at any time for a link to the rules, this thread, and where to receive support from staff members.

#twitter
All Twitter messages from the MCCentral Twitter account will broadcast to this channel.

#announcements
Any announcements by the administrative team regading MCC will be posted in this chat.

#changelog
Any new changelogs in the Server Updates/Changelog forum will be pushed to this chat via RSS.

#events
Information for any events hosted by the Community Events Team will be posted in this chat.

#uhc_times
Game times for UHC games on the server will be posted in this chat.

#general
General chat for anything MCC related.

#support
Receive support from server staff and build team members.

#factions
General chat for MCC Factions.

#prison
General chat for MCC Prison.

#survival
General chat for MCC Survival.

#kitpvp
General chat for MCC KitPVP.

#skyblock
General chat for MCC Skyblock.

#creative
General chat for MCC Creative.

#arenapvp
General chat for MCC ArenaPvP.

#uhc
General chat for MCC UHC.

#minigames
General chat for all MCC Minigames.

#roleclaim
Claim the Donator role if you have a rank in-game.

#media
Share YouTube videos or any other MCC related media.

#portuguese_chat
Talk with other Portuguese-speaking players in the community.

#off_topic
Discuss anything not related to MCC.

#music
Use this channel for any music playback commands of the MCC Music Bot bot.

#memes
Share memes with the community (with moderation).

#bots
Use this channel for any bot commands.

3B. Voice Channels
There are several different voice channels for you to access and talk with others. Here they are and a description of each one:

General
General channel for anything MCC related.

Staff Promotions
Channel where weekly staff promotions take place (Saturday @ 5 PM EST).

Community Events
Channel where community events hosted by the MCC Community Events Team takes place.

Music
Channel where you can listen to music (use the #music channel to control music playback of the Dyno bot).

Community Q&A
Channel where Administrators from time to time host a Q&A session where you guys ask and the Administrators answer!

Sub-Server Channels
Individual sub-servers channels for discussion relating to that specific voice channel.

Minigame Channels
Individual minigame channels for discussion relating to that specific voice channel.

Support Waiting Room
Channel where you can wait to receive support from a staff member or wait to be screenshared by a staff member.

Public Channels/PT-BR Public Channels
Channels where you can talk with friends or new people.

Private Channels
Join a channel with a few friends and talk with each other privately.

4. Bots
The Discord server has a few bots that enhance the user experience. Here is a short description of each bot:

Dyno
This bot gives staff members the assistance and permissions they need to moderate the Discord server as well as music playback.

Tatsumaki
This bot enhances the social experience in text channels and adds fun things to do. Use the commands in the #bots channel.

Nadeko
This bot serves only one purpose and that is the link between the voice channels and text channels.

Discord.RSS
This bots serves the purpose of pushing notifications to text channels like the #changelog channel using RSS feeds of MCC's sub-forums.

MCC Music Bot
This bot provides all the music functions of the MCC Community Discord server. These commands may be issued in the #music channel and you can listen to music in the Music channel.

4. Voice-Text Channel Links
With the use of the Nadeko bot there are private channels linked to the Support Rooms, Screenshare Rooms and Private Rooms. There are also private channels linked to the Music channel, the Staff Promotions channel, the Community Events channel, and the

[bCommunity Q&A

channel. This allows for staff to privately communicate with you guys and not having to private message things and you to communicate with friends privately on the Discord server as well as control where messages are sent when listening to music and conducting public staff promotions. Once you joined or are moved into one of these channels the text channel linked to that voice channel will appear above the voice channels. Once you leave the voice channel then the text channel will disappear. Again this allows for efficient and private communication with only the people you want to talk to on the Discord server when it comes to private rooms and support rooms.

5. Miscellaneous Information
5.1: Name Changes
If you want a name change then please contact a Senior Moderator+ on the Discord server. Please only do this once in awhile. Not every day, every other day or week. It will just make things annoying for the Senior Moderators. Any choice of an inappropriate name will automatically be denied. Joining the name of an inappropriate username is an automatic permanent ban.

5.2: Abuse of the MCC Music Bot
Trying to use the bot in a form of abuse, disrupt the operations of the bot or disrupt other users trying to enjoy the music on the server will result in you having your speaking access revoked in the #music channel. This is at an administrator's discretion.

This is an overview of the MCC Community Discord and this thread is bound to change over time, so we suggest you keep up with this thread as time passes. If you have any further questions then please leave them below and myself or another member of the staff team will answer your question. As always have a great day!